Table d'hôtes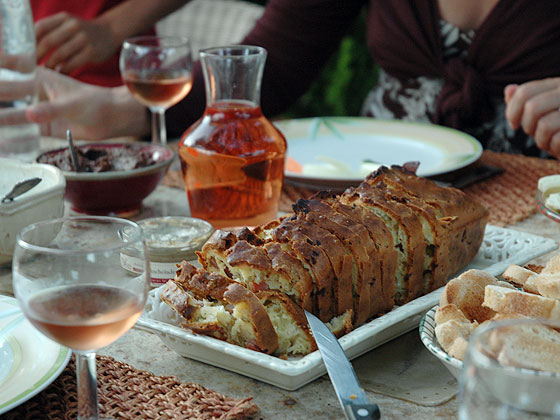 Subject to the presence of a minimum of 6 adult guests, we can offer table d'hôtes twice a week.
The table d'hôtes offers a unique menu. This menu is composed of: an aperitif, a starter, a main course, and a dessert, coffee/infusion, AOC wine at the rate of 35€ per person (children under 12 years old can benefit from a specific menu at the rate of 18 euros).
Table d'hôtes is served on the terrace or in the dining room. It is an important moment of conviviality for us because it encourages exchanges in all simplicity and allows us to discuss regional dishes and specialities.
We are cooking dishes using products from local or regional suppliers, depending on availability.
The village restaurants are located 5 minutes walk away and if we do not offer dinner, we will be happy to advise you and book a table for you.
Petit Déjeuner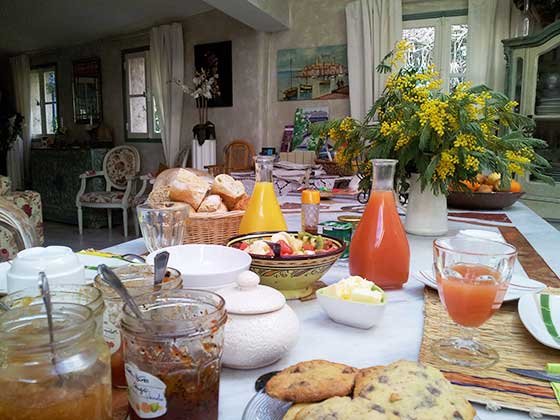 Breakfast is served on the terrace or in the dining room.
We select for you local or regional handicrafts. We offer our "home-made" products: tangerine, apricot, fig, strawberry jams, ... according to the season & home-made bread and cakes according to the day ... yoghurt, fresh fruit salad, bread, pastries and fruit juices complete this breakfast which will allow you to start the day on the right foot.
Attentive to our guests, we can offer you gluten-free bread for people with allergies and/or an "à la carte" breakfast (eggs from our hens, cold cuts, regional cheeses with extra charge).
Please ask us when you make your reservation so that we can arrange this for you. We take advantage of these moments of conviviality to offer you our ideas for outings, adapted to your desires!